Instagram For Dentists
2023 NEW 2nd Edition
The Biggest Upgrade to Instagram for Dentists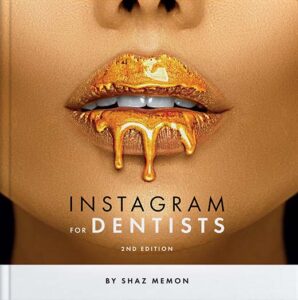 Now back in stock on Amazon
The definitive Instagram guide for dentists. The book is designed in a reference format to make learning easier. It allows you to skip to sections that are important to you, and learn using simple bite-size information. Learn to use Instagram to grow your brand effectively, creatively and confidently.
100 EXTRA PAGES ADDED!
390 PAGES
HARDBACK
&
KINDLE EDITION AVAILABLE
YOU WILL LEARN
The type of Instagram account you should have
How to be interesting
Identifying your own voice
Attracting new patients
Growing your followers
How to hashtag
Defining your ideal patient
Using the 'Influencer' approach
Using Instagram stories
Using Reels
What should I be posting?
Influencer advice
Engagement formula
Your Instagram is your classroom
Editing apps
I am not comfortable on camera
An introvert's guide to socials
Personal or practice branding?
Creating a standout bio
Embedding Instagram on your site
The Follow-Back tricke
Power of 9 formula
Defining the type of work you want
How to get more views
What makes a good post?
What times are best to post?
How often should you post?
Boost discoverability using SEO
Writing hook titles
Instagram visibility formula
Instagram guides
Taking great photos
GDC guidelines
Hashtag banks
Quick replies
Tagging for growth
Analysing your audience
How to get Verified
Using an agency
Running competitions
Paid partnerships and Influencers
Product catalogues
Attracting high-value patients
Patients have influence
and much, much more!
100 EXTRA PAGES ADDED!

390 PAGES

HARDBACK &

KINDLE VERSION AVAILABLE
10% PROFITS GO TO