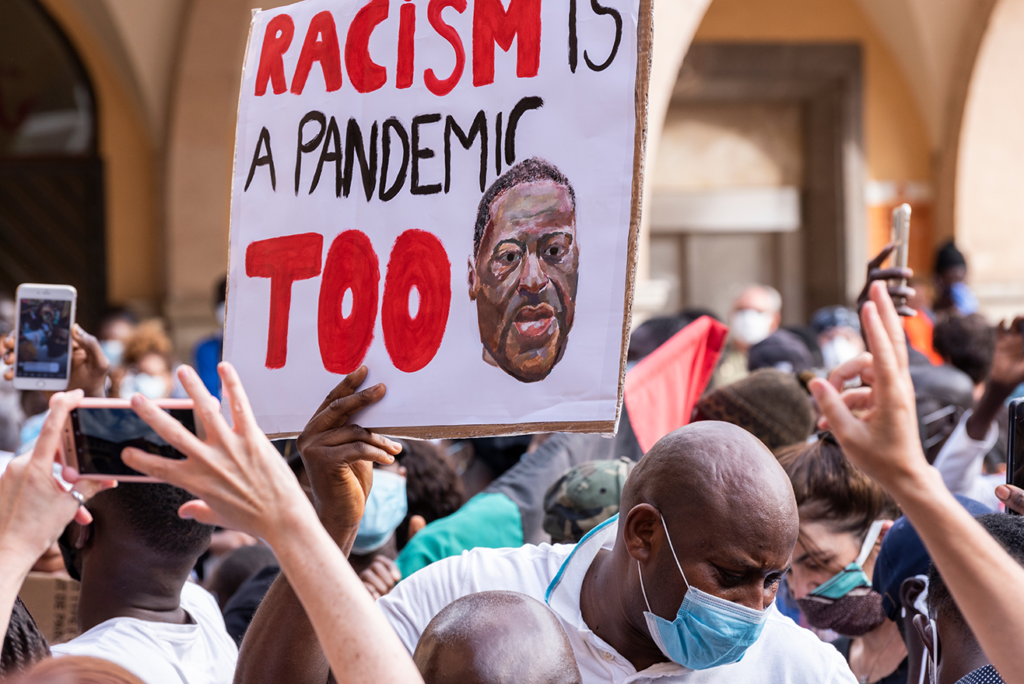 Editorial credit: AleFron / Shutterstock.com
As Gareth Southgate knows only too well, missing a crucial penalty for your country can be one of the worst moments of a football player's career. But the three players who missed in the Euro 2020 final on Sunday haven't just had to deal with the usual heartbreak, they've also had to put up with sickening racist abuse on social media.
This is far from the only occasion when a football match has ended with players being abused online for the colour of their skin, but it is, to date, the most high-profile. It is therefore essential that we seize this opportunity and turn England's defeat into something positive. This needs to be the moment when the whole country wakes up and says enough is enough. By doing so, we can win something much more important than a football tournament.
This isn't about condemning all football fans as racists or damning society as a whole, nor is it about forgetting how far race relations have come.
To give just one example, Paul Canoville, Chelsea's first ever black player has written a powerful book, Black and Blue, where he recounts the abuse he suffered in the 1980s. He was routinely booed and called unrepeatable names by his own fans, many of whom wouldn't even celebrate when he scored a goal, claiming that, because of his skin colour, the goal didn't count. https://www.dailymail.co.uk/sport/football/article-1189328/REVEALED-The-shocking-revelations-Chelseas-black-player-Paul-Canoville.html One Chelsea fan reports being punched in the face by a fellow supporter purely for applauding him. https://www.wsc.co.uk/reviews/64-Players/1008-black-and-blue
Compare this to today, where every single premier league club has several non-white players who are revered like gods by the fans. Clearly we've made a great deal of progress. But progress on a journey does not mean we've reached the destination. In fact, the evidence of recent years suggests we are at the very least beginning to lose our way.
In the 2018/19 season, the last full season with fans in the stadiums, official Home Office figures reveal that racist incidents at matches were up more than 50 per cent on the previous year, with 152 reported to police. www.telegraph.co.uk/football/2020/02/05/paul-canoville-forgiving-chelsea-overcoming-racial-abuse-mastering/amp/
And of course, social media has provided a haven for people to post their bile without consequences. One can only imagine how awful the abuse of non-white footballers and other public figures would have been if social media had existed in the 1980s but the fact is it didn't. It's a modern problem and it needs a modern solution. In 2021, it is simply unacceptable that three young men should be abused for the colour of their skin. If social media has opened the window to this sort of behaviour, we need to find a way to slam that window shut.
Condemning the abuse, as pretty much every single politician has done in the past week, is all well and good but we need to find practical solutions. This isn't straight forward and it may take time to get it right but the Euro 2020 final needs to be a turning point.
In a sense, it's fitting that the tournament was called Euro 2020 despite taking part in 2021. We should take this as a sign that the abuse suffered by Marcus Rashford, Jason Sancho and Bukayo Saka must be consigned to the past.
So how do we achieve this?
Speaking to the BBC, former England goalkeeper David James made a valid point. He said that, pre-social media, footballers would receive abuse in the post and 'you wouldn't ask the postal service to look at every letter before it was delivered.' https://twitter.com/search?q=%22david%20james%22%20racist&src=typed_query&f=live
However, unlike private messages sent in the mail, social media is public, meaning the abuse will be seen not just by the footballer himself but by the young, impressionable fans who follow him. Secondly, social media has access to algorithms and filtering systems that the post office does not.
As I pointed out on Instagram a few days ago, social media companies have been very active in combating the dissemination of misinformation around Covid-19. Surely they should be showing at least the same amount of zeal when it comes to racist abuse. https://www.instagram.com/p/CRTt-5Ysw6G/?utm_source=ig_web_copy_link
I believe the single best way of fighting this issue head on would be to make people truly accountable for what they say. As David James and others have suggested, the government could compel social media companies to make users link every account set up in this country with a valid ID, so that we can see the true identity of the people behind these posts rather than just their cowardly pseudonyms. https://twitter.com/jamosfoundation/status/1415222427030892545
Naturally, such a move will see social media companies experience a drop, at least in the short term, of users and therefore revenues. In the long term, it's very possible they may find they actually end up with more users and increased engagement because their platforms are nicer places to spend time. But this short-term hit means it's unlikely they will make such a move off their own bat. Therefore, if we truly want to see change in this area, the government will need to step in.
This episode has already shown us what can happen when racist content is posted under a person's real name, with a Savills employee facing the sack and potentially even criminal prosecution over a post in the aftermath of the Euro final. The person in question denies being responsible for the post and claims he was hacked, and there is an ongoing investigation into the matter, so I won't be drawn on the veracity of his denials but the fact that his company were alerted to the post so quickly demonstrates the consequences of posting abuse under your own name. https://www.mirror.co.uk/news/uk-news/savills-estate-agent-pictured-after-24520787
Sadly, I don't think we're ever going to create a world where racist abuse disappears altogether. But, as we've seen from Paul Canoville's story, football stadiums in this country have been transformed from places where racism flowed freely into somewhere where it is entirely unacceptable. And, as we spend more and more of our lives online, it is essential that the same thing happens to our social media platforms. That's why I'm urging everyone to sign this petition which calls on the government to make verified ID a requirement for opening a social media account. https://shaz.co.uk/change/
Let's be clear. This is not about stopping free speech. Individuals should have the right to express their opinions and their feelings, even if they are unpalatable. But if you want your voice to be heard, the rest of us have a right to know that it is your voice. You will then have to face up to the strong possibility of being ostracised from polite society, sacked from your job and, in some cases, being the subject of criminal prosecution.
It took immense courage for Rashford, Sancho and Saka to step up and take those penalties. If a racist person wants to abuse them, they should have the courage to do so under their own name. But, somehow, I don't think they will.
Follow me on Instagram: https://www.instagram.com/shaz.memon